Sprinkler and Irrigation Systems in Denver
A SPRINKLER COMPANY YOU CAN TRUST
At Dalia Landscape, we are a trusted and experienced landscaping company specializing in irrigation system installation and sprinkler system repair and installation in Denver, CO and the surrounding areas. We're eager to help you install or repair your irrigation system to keep your lawn looking its best! Get in touch with us today for more information.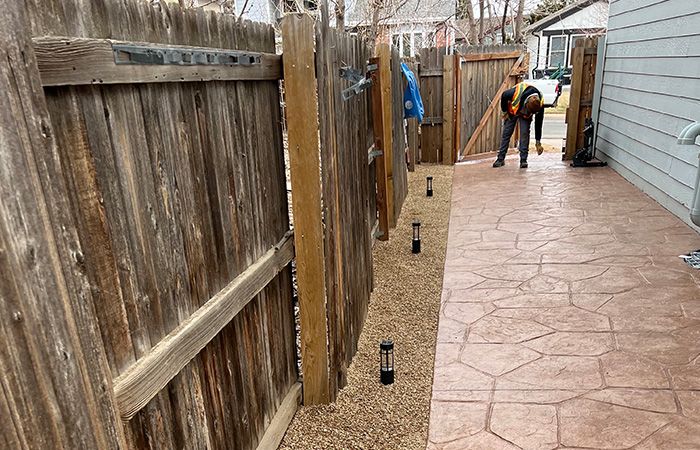 Why Choose Our Sprinkler System Services
When you choose Dalia Landscape for your sprinkler and irrigation system needs in Denver, you can expect:
Quick and Reliable Services
Experience and Expertise
Advanced Technology and Equipment
Comprehensive Services
Affordable Prices
Our Sprinkler Repair and Installation Services
Proudly serving Denver, CO and nearby cities including Commerce City, Aurora, Lakewood, Broomfield, Centennial, Englewood and more, Dalia Landscaping offers comprehensive sprinkler repair and installation services. As a homeowner, maintaining your lawn and garden requires consistent watering, especially during the hot Denver summers. Installing an irrigation system is an efficient and convenient way of ensuring your lawn and garden stay healthy, green, and vibrant. At Dalia Landscape, we offer a range of sprinkler and irrigation system repair and replacement services to take care of all your water needs.
Sprinkler System Repair
We provide sprinkler system repairs services in Denver to fix broken or malfunctioning parts of your system. Our team of experienced landscaping contractors will diagnose the issues, identify the damaged components, and replace them promptly to ensure your sprinkler system is functioning correctly.
Irrigation System Installation
Looking for a new irrigation system or to replace your existing one? Our team will help you choose the best type of irrigation system for your property and provide professional irrigation installation services.
Maintenance Services
Keeping your sprinklers and irrigation system in working order is crucial to ensure maximum efficiency and prevent water waster. Our team provides ongoing maintenance services to ensure your system is working correctly, including checking for leaks, performing system tune ups, and keeping your system running smoothly.
Sub-Services Block
Installation and Repair of Irrigation Clock
Set Sprinkler System Settings
Install Sprinkler System
Repair or Replace Sprinkler Heads
Repair Leaks
Installation of Drip Lines
What our customers are saying
Highly Recommended!
"I have been using Dalia Landscaping for over a year and a half now and would highly recommend them. They are consistent, on time, affordable and very knowledgeable in many facets of landscape management. I normally use their lawn mowing service and am pleased every time. Recently I had contracted them to remove some pesky weeds/trees/bushes and they did so at an affordable price and with a quick turnaround time. Overall I recommend using Dalia for any lawn related service you may need as their list of capabilities is quite large."
-Dustin
A Breath Of Fresh Air!
"Working with Erick and his team was a breath of fresh air! From the beginning he made my family feel at ease with expertise from sprinklers to grass and now I'm having them build a deck for us. I recommend them highly and trust them with my home!"
-Adrian
Attention To Detail and Professionalism
"Antonio and his crew did and excellent job with my backyard and gave me a peaceful and serene place to escape. Their attention to detail and professionalism is among the best in the business. They return our calls in a timely manner. Highly recommend!!!!"
-Kim